The Beginning: Education & Evolution ~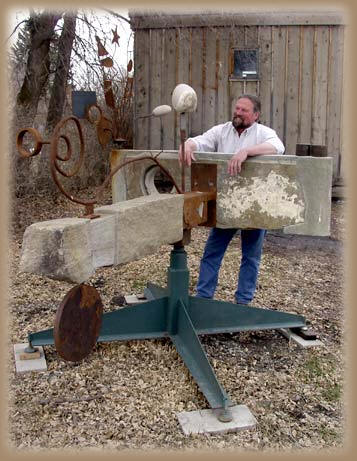 Zak was born in Butte, Montana, to a hardrock miner and his wife in 1944. He was nine months old when the family moved to Livingston, where his father began working for the railroad. Zak's parents, Hank and Amanda, were both craftsmen. His mother still enjoys her artistry today.
Overcoming the poor education he received in Livingston and despite being dyslexic and barely able to read, Zak entered Montana State University, Bozeman in 1962. He speaks fondly of mentor Robert DeWeese "who taught me to really draw," and Frances Senska, who introduced him to The Art of Ceramics.
After a stint at the San Francisco Art Institute, developing his drawing even further under the eye of Alvin Light and at the same time working more in ceramics with Manuel Neri. Zakovi returned to MSU in 1966 to finish a BSA.
He then began graduate work in Humanities. An extension program took him to Arizona State University to study at Paolo Soleri's Cosanti Foundation. He stayed in that state at the University of Arizona as a teaching assistant and completed his MFA in 1969, returning to Montana in 1970.
This latter diverse and inspiring education, combined with his own determination, intelligence, talent, and experience, enabled Zak to become the craftsman and disciplinarian he is today.
Zak has also become a Master Builder and On Site Inspector of major construction projects in 5 states.
~ THE DISCIPLINES ~
Drawing/Painter – 1955 to Present
Today Zakovi looks back and explains, "I began drawing for pleasure in grade school and now see that drawing/sketching has been my staff through five disciplines and four decades of endeavor. Drawing has been my entry point for woodwork, leather work, building, architecture, sculpting and painting. For me drawing is a third-dimensional activity, held to view and done to visualize."
This discipline is evident in the rich textural imagery of his flat work, the result of Zak's unique usage of mixed media, including conte, acrylics, ink and his own invention of material on which to draw and paint.
Zak's knowledge, love, and appreciation of nature is visible in his landscapes, which, being fantastical and familiar at the same time, evoke both intellectual and sensual response. His current Landscape Cartoons series are whimsical fantasies
Leather Work – 1965-1971
Leather began as a media exploration for Zakovi. "Another material to manipulate and learn to use sculpturally," he explains. It was during graduate school in 1969 in Tucson that Zak became so successful with his leather bags for men and women that they were featured in Gentleman's Quarterly and Vogue magazines that year. His vests, bags and other leather accessories were sold in boutiques throughout the United States, including Hawaii. A photo file of his leather work was requested and is included in the Museum of Contemporary Crafts in Washington, D.C, which led to inclusion of Zakovi's work in LEATHER, a book published in Holland, featuring 1960's international leather craftsmen.
After graduate school, Zak spent a year in Tucson, then the call of the north beckoned him back to Montana to begin a family. Leather work gave way to construction.
Designer/Builder & Master Woodworker – 1972-1984
Zakovi began as a union laborer, then carpenter, moving up to foreman, then superintendent until he began his own construction company. In time he took the next step, becoming a construction manager and project manager.
He designed and hand-built fine homes and commercial buildings in Montana from 1972-1983. The business evolved to a high craft and Art form through Design.
Zak's woodshop grew out of the need for doors, windows, cabinets, and furnishings in the homes he designed and hand built at the time. The woodshop also produced bid and commission work for architects, other contractors, universities, and corporate properties. An injury ended this endeavor and led to a career in construction/project management.
Master Builder – 1984 to 1997
As a construction manager, project manager and owner's representative, Zakovi has worked on numerous major projects from $2 to 20 million, consulting with owners, architects and contractors to coordinate the project scheduling, cost and quality control, hiring personnel, subcontractors and purchasing materials. The end result is a job done for the price agreed, to the quality level described, and on time. Working as a liaison between the tradesmen, the owner, professional team and inspectors – Zak has learned the industry well.
Federal on Site Building Inspector – 2002 thru 2004
In a Civil Engineer's capacity I was hired to inspect and coordinate compliance with the construction documents for a Federal Fish Technology laboratory and Visitors Center, here in Bozeman Mt.
Sculptor – 1961 to 2017
Zak has created many sculptures in wood, ceramics, bronze, steel, mache', leather and more recently, in stone.
It begins with a stone hunt. When Zakovi lived in the Southwest his preference was to go on expeditions within the Apache Nation searching out stone in its natural setting. In Montana he finds stone in his special places, as well as in quarries. But the criteria are the same—finding stones that "I've got to have ". Then it is a matter of following the Yeses.
"To my amazement, this most arduous material and work have allowed me my most spontaneous expression," he explains. "I think it has to do with meeting my match, i.e., the stone and work absorbs my fiery energy, which allows the more lighthearted, lyrical, sensual sense to be expressed."
COPD - 2016 Chronic Obstructive Pulmonary Disorder. So no more stone dust or wood dust allowed in my life … the end of 2 decades of sculpting and a decade of wood work!
STUDIOS
Establishing a studio is an evolved process, requiring setting up a business – books, licenses, office etc.. Then developing a community image, advertising, endless promotional materials and of course a building well equipped with equipment.
STONES BY ZAK ~ was my Oracle Arizona studio. I built it from scratch out in the Chaparral dessert, bring electric lines and a road in ½ mile then building studio and cabin. The studio was mostly an out door facility with a tool room. I produced a twelve stone exhibition over a 3 year period along with a few commissions. It ended suddenly when my lover stole the property from me.
PLUM STREET STUDIOS INC. is my current studio in Bozeman Mt. In 1998 I converted my Wood Shop / rental property in to " a studio to die for " I am the proud owner of a 3000 sq. foot studio complete with Sculpture Garden and it is equipped to the nines. I also have leased a stone yard with a warehouse on it a mile away to store stone, equipment and build larger projects – Stone Architectural features.
My investment in property, tools and equipment is in the ½ million range. I am set up to produce work from table size sculpture to 50 ton monumental work- including staircases, water features, walls, dividers … on and on.

CEDAR STEET STUDIO is a companion facility to Plum Street Studios where stone is stored and Architectural commissions can be built. As with many artists my studio is a work of art. My last sculpture "Fossil Thunder" was carved there and later transported to my studio on Plum Ave to be completed with the help of assistant and current owner of the piece Tate Chamberlin
~ GRANTS, COMMISSIONS & EXHIBITIONS ~
2011: Invited the" Montana Invitational" the Montana's first Sculpture Park exhibition in Bozeman, Mt. Aug. 2011
2008: Installed and sold "Sun~Sit" stone bench at the Bozeman Public library
2008: Installed "Windjammer III" in the Art on Main Street annual exhibition.
2008: Installed "The Dolmen" at the Bozeman's Gallatin Valley Mall outdoor art exhibition.
2007 : Received the commission to build a sculptural stone arch for the Great Falls Public Library. A 14 ton free standing archway with running water.
2007: Installed and sold "Mills Memorial" in Bozeman City Cemetery.
2007: Commissioned for a stone property marker "Trio" at the Cikan's residence.
2006: Awarded a stipend to install two stone sculptures in the
City of Redding Ca. new Sculpture Garden.
2006: One man sculpture exhibition in the RJS building commons area at Big Sky Town Center.
2006: Two outdoor installations of stone and steel sculptures at the Big Sky Town Center development. The Menhir installed in the Main St. round' a-bout', sale pending.
2005: Commissioned to design and build a stone staircase including stone sculptural pillars, for a residence at the Yellow Stone Club. A 25 ton stone sculpture.
2005: Installed and sold "X ~ Pillar" to Insty Print of Bozeman.
2004: Commissioned to design and over see construction of a water feature and powder room in a residence at Yellow Stone Club.
2004: Representation by RED RAVEN GALLERY Big Sky Montana.
2003: One-man painting and sculpture exhibition at the Main Stope Gallery, 45 W Park Street, Butte, Montana.
2002: Commissioned to created an exterior stone sculpture "Embrace" for Bozeman Architect Frank Cikan, a 6600 pound stone and steel construction
2001-02: Two installations – "Dolmen" a stone, timber and concrete sculpture at the Bozeman Deaconess Hospital – and "T-2" a stone and steel Stella at Bozeman's 777 building.
2000-2002: Developed a sculpture garden and painting gallery at Zakovi's Plum Street Studio, 417 Plum, Bozeman, Montana. Ten stone and steel sculptures, many paintings and drawings available.
2000: One-man painting and sculpture exhibition at the DeWeese gallery, Bozeman High School, Bozeman, Montana
1999: Commissioned to produce an exterior stone and steel sculpture for Western Plant Breeders, Inc. Bozeman, Montana
1999: Commissioned to create a sculptural entry table for Half Moon Lodge, maple log and stone. Big Sky Montana
1999: One man sculpture exhibition, four stone, metal, and wood sculptures, indoor exhibition, slide show and lecture. Beall Art Center, Bozeman, Montana
1998: Wind Festival, two "Windjammers" on exhibition, stone and steel kinetic sculpture, "stones that blow in the wind" Livingston, Montana
1998: ZAC-LAND, a current flatwork exhibition consisting of eleven pieces of mixed media painting spanning a decade of work. September 1 – October 15, 1998, Emerson Cultural Center, Bozeman, Montana.
1994 – 1995: One-man sculpture exhibition featuring twelve stone-steel-bronze pieces weighing from 150 to 2400 pounds. This show took over a year to produce at a cost of $36,000. New Doors on Art, Tucson, Arizona.
1989 – 1990: Major one-man showing of paintings and sculpture including thirty pieces of current flatwork and fifteen pieces of sculpture. The show proved to be a success both by sales and by the region's favorable response. Museum of the Rockies, Bozeman, Montana.
1986 – 1987: One-man show, Bob and Gennie DeWeese Home Gallery, Bozeman, Montana.
1986 – 1987: Group show, Beall Park Art Center, Bozeman, Montana. Group show opening the DeWeese Gallery, Bozeman High School, Bozeman, Montana.
1985 – 1986: Applied for and received and anonymous private grant to resume work as a full-time painter and sculptor for twelve months. (Extended period to twenty months with personal savings.) Bozeman, Montana.
1985: One-man show in hometown of Livingston, Montana of personal importance since it marked a return to the fine arts after sixteen years in the creative, yet functionally-oriented building industry. Danforth Gallery, Livingston, Montana.
1984: Commission to create mixed media wall plaque, Medical Arts Complex, Bozeman, Montana.
1980: Commission for exterior sculpture completed in 1981, Western Bank, Bozeman, Montana.
Publications:
Via Magazine, AAA quarterly "Opening Sculpture Park for Bozeman" Fall 2011
Big Sky Journal, "Bozeman Sculpture Park 2011 Artists" Fall edition 2011
Date Magazine, Redding Ca. Record Weekly, Public Sculpture Park, May 4, 2006
At Home Magazine, "Carved in Stone," by Michele Corriel, volume 25, April 2004
Big Sky Journal, "Alchemy of an Ancient Art: Zak H. Zakovi," by Scott McMillion,
Arts edition 2003
Changchun International Sculpture Symposium Catalog, "Stone Jazz," essay by Zak H. Zakovi, 2002
At Home Magazine, "Working Artist, Zak Zakovi," by Lynette Dodson, volume 3, January 2002
Sources and Designs, trade journal for Southwest interior architects, featured "Anthro Stella" a stone, concrete, and copper sculpture by Zak H. Zakovi, Summer 1999
Montana Magazine, "The House That Zac Built," by Joan Haines, January 1981
Leather, Henery Regnery Co, Chicago and Holland, Europe, by Donald J. Willcox & James S. Manning, featured handbags and dolls by Zac, 1972
Vogue Magazine, "Vogue's Own Boutique," featured shoulder bags by Zac, August 1970
Gentleman's Quarterly, "Fashion Happenings" featured men's shoulder bags by Zac, November 1970
Zak has self-published 12 Books / Booklets / Essays they can be found on this website under the B & E key.
<![if !supportLineBreakNewLine]>
<![endif]>
Education:
Montana State University, completed Associated General Contactors Supervisory Program, 1985
University of Arizona, completed Master of Fine Arts degree, 1969
Arizona State University, studied under Paolo Soleri as a student then as a resident, at the Cosanti Foundation, 1966-67
Montana State University, completed Bachelor of Science in Art, 1966
San Francisco Art Institute, studied under Manuel Neri and Alvin Light, 1964–65
Public Contributions:
<![if !supportLists]> · <![endif]>Donated 2 stone sculptures to Bozeman High School and 1 to the Emmerson Cultural Center – 2015 -16.
<![if !supportLists]> · <![endif]> Founder and Director of the Bozeman Sculpture Park, 2009 – 201
<![if !supportLists]> · <![endif]> Developer/Construction Manager, Bozeman Recreational Center, pro bono, 1993
<![if !supportLists]> · <![endif]> Co-founder of Emerson Cultural Center, Bozeman, MT, 1992
<![if !supportLists]> · <![endif]> Co-founder of Headwaters Academy, Bozeman, MT, 1992
<![if !supportLists]> · <![endif]> Founder of Pedestrian Safety Committee, school crossing guard program, Bozeman, MT,1978